£161m Euromillions jackpot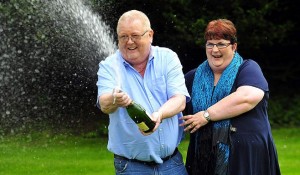 Today a lucky pair of scots from Ayrshire have won the £161m Euromillions jackpot.
The amazing lucky winners are called Chris Weir  and Colin Weir, and they were quoted as being  "tickled pink" when they realised they had won the whooping Tuesday euromillions jackpot.
Chris continued "I even had a glass of white wine which is something I normally only do at Christmas!" taking the win in her stride like a true Scot!
This prize was Europe's biggest ever win and was actually capped after a row of previous rollovers.
Apparently, on the night of the draw Chris had been checking the numbers from her bedroom as they were revealed.
"I started circling the numbers I had matched but wasn't doing very well. Then on the fifth line, all the circles seemed to join up."
At the time, the Camelot telephone line for claims was closed, but this didnt deter Chris and husband Colin from sitting up all night due to their excitement.
"When we first realised we had won, it felt like a dream," Colin said. "Everything went into slow motion."
The Euromillions Jackpot Winners reactions….

Later in Falkirk the media asked them "what will you do with the money", to which Chris replied: "We're not flashy people."
"The next steps are going to be the most difficult… with great wealth comes great responsibility"
The Weirs have both had serious health conditions in recent years and have not been able to work.
Colin, 64, had previously worked as a television cameraman and Chris, 55, is a fully-trained psychiatric nurse.
The Winning numbers for the 12 July 2011 euromillion jackpot were…

7, 19, 38, 42 and 45
Lucky Stars 9 and 10
The most exciting aspect of their windfall is the opportunity to travel.
"We have both always wanted to see the Great Wall of China and Colin would love to stand at the foot of Ayres Rock in Australia," said Chris.
"We also love art galleries, so this gives us the chance to visit those in Paris and in Russia. These are all things we thought we would never see."
They have also already decided to buy homes for their two children, Carly and Jamie (both in their 20s).
The Euromillions jackpot has been kind to UK players…
Other large wins have also fallen to players from the UK, with the largest lottery winnerpreviously going to a UK person for the amount of £113m in the Euromillions last October, however they choose to remain anonymous.
The Weirs have toppled former postal worker Angela Kelly from East Kilbride, who was Scotland's biggest winner in August 2007 when she won £35,425,411.80 in the Euromillions jackpot.
UK persons have taken home the  Euromillions jackpot more than 14 times in the last 2 years, with anonymous persons winning £113m and £84m last year.
Nigel and Justine Page from Gloucestershire in the UK, won a £56mEuromillions  jackpot prize in February 2010.
The win by Chris and Colin Weir makes them the 430th  most rich in the world, according to the Sunday Times Rich List!