ComeOn World Cup Casino Survivor
As a warm up to the World Cup 2014, ComeOn are pleased to announce the "ComeOn World Cup Casino Survivor", which involves 4 football related games within our casino.  ComeOn will hand out £10,000 in cash divided equally among the winners who have qualified each day until the 8th June.
But, if you are the only person remaining, then you will win the entire £10,000!
FIRST YOU NEED TO QUALIFY
You qualify for the challenge by winning a minimum of £1 in a single spin on any of the dates 8th, 9th and 10th of May. The games that are included will be found in the Casino Survivor bundle: Soccer Safari, Shoot, Football Star and Football Cup.
THEN THE CHALLENGE STARTS

From 11th May, you must then hit the target amounts specified below in a single spin on any of the 4 games in the Casino Survivor game bundle every day until 8th June! Can you do it?
11th – 18th May: Win £3 daily in a single spin
19th – 31st May: Win £5 daily in a single spin
1st – 8th June: Win £10 daily in a single spin
ComeOn Casino 2014
We have arranged for you to have 20 Free Spins on the popular video slot Jack Hammer at Come On Casino, when you first open a full member account.
NO deposit is needed and you will win REAL money, no ties or restrictions. This is the real deal!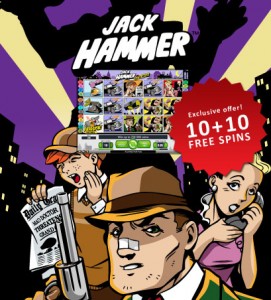 Join ComeOn Casino: Limited Offer Bonus Code
Simply insert the come on bonus code in the Full Registration form when you sign up and use the comeon bonus code called: FREE88 to get your extra free spins. Then navigate to the ComeOn Casino and open Jack Hammer to claim your spins. Only 1 account per household, dont try to be greedy, or you wont get paid any resulting winnings!
Come On Bonus Code = FREE88


Welcome Bonus + 20 FREE SPINS!