Bloodsuckers is a 5 reel,25 line vampire based video slot with a high payout ratio and an entertaining bonus round whereby you need to select the correct coffin that the vampire is sleeping in, and then attempt to stab him through the heart using an axe/knife as seen in the bonus round screenshot below.
Bloodsuckers Bonus Round!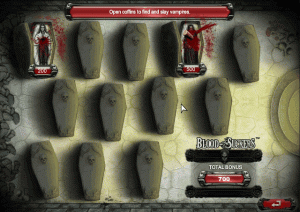 You can play Bloodsuckers here
This is without doubt one of the best games on the market, and is a favourite amongst players around the world!
You can play for various bet amounts and there are scatter symbols and freespins to collect in order to help you hit the big wins of 100,000 Euros plus. Bet amounts vary from 0,1 Euros per spin all the way up to 500 Euros per spin!
It is also possible to play a high stakes slot version of Bloodsuckers, where you can stake up to 500 Euros per spin, which would allow you to win more than 1.5 Million Euros on a single spin. Read more about high stake slots.
Bloodsuckers Video Slot
You can play Bloodsuckers at the following places: