Premier League Full Fixture List 2015-2016
Premier League Full Fixture List 2015-2016
………..Today the Premier Football League full fixture list has been released. Does it bode well for your team, can Chelsea maintain the title?
On opening day Chelsea are firm favourites to gain 3 points against Swansea at home.
Meanwhile Man Utd face Spurs at Old Trafford, while FA Cup winners Arsenal face West Ham at the Emirates stadium.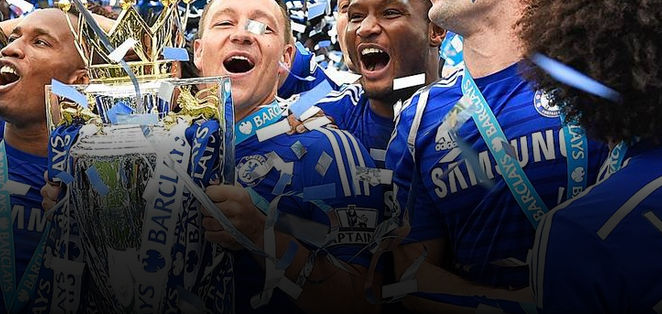 Saturday 8th August 2015
Barclays Premier League
Arsenal V West Ham
15:00
Bournemouth V Aston Villa
15:00
Chelsea V Swansea
15:00
Everton V Watford
15:00
Leicester V Sunderland
15:00
Man Utd V Tottenham
15:00
Newcastle V Southampton
15:00
Norwich V Crystal Palace
15:00
Stoke V Liverpool
15:00
West Brom V Man City
15:00
Saturday 15th August 2015
Barclays Premier League
Aston Villa V Man Utd
15:00
Crystal Palace V Arsenal
15:00
Liverpool V Bournemouth
15:00
Man City V Chelsea
15:00
Southampton V Everton
15:00
Sunderland V Norwich
15:00
Swansea V Newcastle
15:00
Tottenham V Stoke
15:00
Watford V West Brom
15:00
West Ham V Leicester
15:00
Saturday 22nd August 2015
Barclays Premier League
Arsenal V Liverpool
15:00
Crystal Palace V Aston Villa
15:00
Everton V Man City
15:00
Leicester V Tottenham
15:00
Man Utd V Newcastle
15:00
Norwich V Stoke
15:00
Sunderland V Swansea
15:00
Watford V Southampton
15:00
West Brom V Chelsea
15:00
West Ham V Bournemouth
15:00
Saturday 29th August 2015
Barclays Premier League
Aston Villa V Sunderland
15:00
Bournemouth V Leicester
15:00
Chelsea V Crystal Palace
15:00
Liverpool V West Ham
15:00
Man City V Watford
15:00
Newcastle V Arsenal
15:00
Southampton V Norwich
15:00
Stoke V West Brom
15:00
Swansea V Man Utd
15:00
Tottenham V Everton
15:00
Saturday 12th September 2015
Barclays Premier League
Arsenal V Stoke
15:00
Crystal Palace V Man City
15:00
Everton V Chelsea
15:00
Leicester V Aston Villa
15:00
Man Utd V Liverpool
15:00
Norwich V Bournemouth
15:00
Sunderland V Tottenham
15:00
Watford V Swansea
15:00
West Brom V Southampton
15:00
West Ham V Newcastle
15:00
Saturday 19th September 2015
Barclays Premier League
Aston Villa V West Brom
15:00
Bournemouth V Sunderland
15:00
Chelsea V Arsenal
15:00
Liverpool V Norwich
15:00
Man City V West Ham
15:00
Newcastle V Watford
15:00
Southampton V Man Utd
15:00
Stoke V Leicester
15:00
Swansea V Everton
15:00
Tottenham V Crystal Palace
15:00
Saturday 26th September 2015
Barclays Premier League
Leicester V Arsenal
15:00
Liverpool V Aston Villa
15:00
Man Utd V Sunderland
15:00
Newcastle V Chelsea
15:00
Southampton V Swansea
15:00
Stoke V Bournemouth
15:00
Tottenham V Man City
15:00
Watford V Crystal Palace
15:00
West Brom V Everton
15:00
West Ham V Norwich
15:00
Saturday 3rd October 2015
Barclays Premier League
Arsenal V Man Utd
15:00
Aston Villa V Stoke
15:00
Bournemouth V Watford
15:00
Chelsea V Southampton
15:00
Crystal Palace V West Brom
15:00
Everton V Liverpool
15:00
Man City V Newcastle
15:00
Norwich V Leicester
15:00
Sunderland V West Ham
15:00
Swansea V Tottenham
15:00
Saturday 17th October 2015
Barclays Premier League
Chelsea V Aston Villa
15:00
Crystal Palace V West Ham
15:00
Everton V Man Utd
15:00
Man City V Bournemouth
15:00
Newcastle V Norwich
15:00
Southampton V Leicester
15:00
Swansea V Stoke
15:00
Tottenham V Liverpool
15:00
Watford V Arsenal
15:00
West Brom V Sunderland
15:00
Saturday 24th October 2015
Barclays Premier League
Arsenal V Everton
15:00
Aston Villa V Swansea
15:00
Bournemouth V Tottenham
15:00
Leicester V Crystal Palace
15:00
Liverpool V Southampton
15:00
Man Utd V Man City
15:00
Norwich V West Brom
15:00
Stoke V Watford
15:00
Sunderland V Newcastle
15:00
West Ham V Chelsea
15:00
Saturday 31st October 2015
Barclays Premier League
Chelsea V Liverpool
15:00
Crystal Palace V Man Utd
15:00
Everton V Sunderland
15:00
Man City V Norwich
15:00
Newcastle V Stoke
15:00
Southampton V Bournemouth
15:00
Swansea V Arsenal
15:00
Tottenham V Aston Villa
15:00
Watford V West Ham
15:00
West Brom V Leicester
15:00
Saturday 7th November 2015
Barclays Premier League
Arsenal V Tottenham
15:00
Aston Villa V Man City
15:00
Bournemouth V Newcastle
15:00
Leicester V Watford
15:00
Liverpool V Crystal Palace
15:00
Man Utd V West Brom
15:00
Norwich V Swansea
15:00
Stoke V Chelsea
15:00
Sunderland V Southampton
15:00
West Ham V Everton
15:00
Saturday 21st November 2015
Barclays Premier League
Chelsea V Norwich
15:00
Crystal Palace V Sunderland
15:00
Everton V Aston Villa
15:00
Man City V Liverpool
15:00
Newcastle V Leicester
15:00
Southampton V Stoke
15:00
Swansea V Bournemouth
15:00
Tottenham V West Ham
15:00
Watford V Man Utd
15:00
West Brom V Arsenal
15:00
Saturday 28th November 2015
Barclays Premier League
Aston Villa V Watford
15:00
Bournemouth V Everton
15:00
Crystal Palace V Newcastle
15:00
Leicester V Man Utd
15:00
Liverpool V Swansea
15:00
Man City V Southampton
15:00
Norwich V Arsenal
15:00
Sunderland V Stoke
15:00
Tottenham V Chelsea
15:00
West Ham V West Brom
15:00
Saturday 5th December 2015
Barclays Premier League
Arsenal V Sunderland
15:00
Chelsea V Bournemouth
15:00
Everton V Crystal Palace
15:00
Man Utd V West Ham
15:00
Newcastle V Liverpool
15:00
Southampton V Aston Villa
15:00
Stoke V Man City
15:00
Swansea V Leicester
15:00
Watford V Norwich
15:00
West Brom V Tottenham
15:00
Saturday 12th December 2015
Barclays Premier League
Aston Villa V Arsenal
15:00
Bournemouth V Man Utd
15:00
Crystal Palace V Southampton
15:00
Leicester V Chelsea
15:00
Liverpool V West Brom
15:00
Man City V Swansea
15:00
Norwich V Everton
15:00
Sunderland V Watford
15:00
Tottenham V Newcastle
15:00
West Ham V Stoke
15:00
Saturday 19th December 2015
Barclays Premier League
Arsenal V Man City
15:00
Chelsea V Sunderland
15:00
Everton V Leicester
15:00
Man Utd V Norwich
15:00
Newcastle V Aston Villa
15:00
Southampton V Tottenham
15:00
Stoke V Crystal Palace
15:00
Swansea V West Ham
15:00
Watford V Liverpool
15:00
West Brom V Bournemouth
15:00
Saturday 26th December 2015
Barclays Premier League
Aston Villa V West Ham
15:00
Bournemouth V Crystal Palace
15:00
Chelsea V Watford
15:00
Liverpool V Leicester
15:00
Man City V Sunderland
15:00
Newcastle V Everton
15:00
Southampton V Arsenal
15:00
Stoke V Man Utd
15:00
Swansea V West Brom
15:00
Tottenham V Norwich
15:00
Monday 28th December 2015
Barclays Premier League
Arsenal V Bournemouth
15:00
Crystal Palace V Swansea
15:00
Everton V Stoke
15:00
Leicester V Man City
15:00
Man Utd V Chelsea
15:00
Norwich V Aston Villa
15:00
Sunderland V Liverpool
15:00
Watford V Tottenham
15:00
West Brom V Newcastle
15:00
West Ham V Southampton
15:00
Saturday 2nd January 2016
Barclays Premier League
Arsenal V Newcastle
15:00
Crystal Palace V Chelsea
15:00
Everton V Tottenham
15:00
Leicester V Bournemouth
15:00
Man Utd V Swansea
15:00
Norwich V Southampton
15:00
Sunderland V Aston Villa
15:00
Watford V Man City
15:00
West Brom V Stoke
15:00
West Ham V Liverpool
15:00
Tuesday 12th January 2016
Barclays Premier League
Aston Villa V Crystal Palace
19:45
Bournemouth V West Ham
19:45
Swansea V Sunderland
19:45
Liverpool V Arsenal
20:00
Wednesday 13th January 2016
Barclays Premier League
Chelsea V West Brom
19:45
Man City V Everton
19:45
Newcastle V Man Utd
19:45
Southampton V Watford
19:45
Stoke V Norwich
19:45
Tottenham V Leicester
20:00
Saturday 16th January 2016
Barclays Premier League
Aston Villa V Leicester
15:00
Bournemouth V Norwich
15:00
Chelsea V Everton
15:00
Liverpool V Man Utd
15:00
Man City V Crystal Palace
15:00
Newcastle V West Ham
15:00
Southampton V West Brom
15:00
Stoke V Arsenal
15:00
Swansea V Watford
15:00
Tottenham V Sunderland
15:00
Saturday 23rd January 2016
Barclays Premier League
Arsenal V Chelsea
15:00
Crystal Palace V Tottenham
15:00
Everton V Swansea
15:00
Leicester V Stoke
15:00
Man Utd V Southampton
15:00
Norwich V Liverpool
15:00
Sunderland V Bournemouth
15:00
Watford V Newcastle
15:00
West Brom V Aston Villa
15:00
West Ham V Man City
15:00
Tuesday 2nd February 2016
Barclays Premier League
Arsenal V Southampton
19:45
Leicester V Liverpool
19:45
Norwich V Tottenham
19:45
Sunderland V Man City
19:45
Watford V Chelsea
19:45
West Ham V Aston Villa
19:45
Crystal Palace V Bournemouth
20:00
Man Utd V Stoke
20:00
West Brom V Swansea
20:00
Wednesday 3rd February 2016
Barclays Premier League
Everton V Newcastle
19:45
Saturday 6th February 2016
Barclays Premier League
Show last 5 matches and coverage     Fixture     Kick-off     Status
Aston Villa V Norwich
15:00
Bournemouth V Arsenal
15:00
Chelsea V Man Utd
15:00
Liverpool V Sunderland
15:00
Man City V Leicester
15:00
Newcastle V West Brom
15:00
Southampton V West Ham
15:00
Stoke V Everton
15:00
Swansea V Crystal Palace
15:00
Tottenham V Watford
15:00
Saturday 13th February 2016
Barclays Premier League
Arsenal V Leicester
15:00
Aston Villa V Liverpool
15:00
Bournemouth V Stoke
15:00
Chelsea V Newcastle
15:00
Crystal Palace V Watford
15:00
Everton V West Brom
15:00
Man City V Tottenham
15:00
Norwich V West Ham
15:00
Sunderland V Man Utd
15:00
Swansea V Southampton
15:00
Saturday 27th February 2016
Barclays Premier League
Leicester V Norwich
15:00
Liverpool V Everton
15:00
Man Utd V Arsenal
15:00
Newcastle V Man City
15:00
Southampton V Chelsea
15:00
Stoke V Aston Villa
15:00
Tottenham V Swansea
15:00
Watford V Bournemouth
15:00
West Brom V Crystal Palace
15:00
West Ham V Sunderland
15:00
Tuesday 1st March 2016
Barclays Premier League
Arsenal V Swansea
19:45
Aston Villa V Everton
19:45
Bournemouth V Southampton
19:45
Leicester V West Brom
19:45
Norwich V Chelsea
19:45
Sunderland V Crystal Palace
19:45
West Ham V Tottenham
19:45
Liverpool V Man City
20:00
Man Utd V Watford
20:00
Wednesday 2nd March 2016
Barclays Premier League
Stoke V Newcastle
19:45
Saturday 5th March 2016
Barclays Premier League
Chelsea V Stoke
15:00
Crystal Palace V Liverpool
15:00
Everton V West Ham
15:00
Man City V Aston Villa
15:00
Newcastle V Bournemouth
15:00
Southampton V Sunderland
15:00
Swansea V Norwich
15:00
Tottenham V Arsenal
15:00
Watford V Leicester
15:00
West Brom V Man Utd
15:00
Saturday 12th March 2016
Barclays Premier League
Arsenal V West Brom
15:00
Aston Villa V Tottenham
15:00
Bournemouth V Swansea
15:00
Leicester V Newcastle
15:00
Liverpool V Chelsea
15:00
Man Utd V Crystal Palace
15:00
Norwich V Man City
15:00
Stoke V Southampton
15:00
Sunderland V Everton
15:00
West Ham V Watford
15:00
Saturday 19th March 2016
Barclays Premier League
Chelsea V West Ham
15:00
Crystal Palace V Leicester
15:00
Everton V Arsenal
15:00
Man City V Man Utd
15:00
Newcastle V Sunderland
15:00
Southampton V Liverpool
15:00
Swansea V Aston Villa
15:00
Tottenham V Bournemouth
15:00
Watford V Stoke
15:00
West Brom V Norwich
15:00
Saturday 2nd April 2016
Barclays Premier League
Arsenal V Watford
15:00
Aston Villa V Chelsea
15:00
Bournemouth V Man City
15:00
Leicester V Southampton
15:00
Liverpool V Tottenham
15:00
Man Utd V Everton
15:00
Norwich V Newcastle
15:00
Stoke V Swansea
15:00
Sunderland V West Brom
15:00
West Ham V Crystal Palace
15:00
Saturday 9th April 2016
Barclays Premier League
Aston Villa V Bournemouth
15:00
Crystal Palace V Norwich
15:00
Liverpool V Stoke
15:00
Man City V West Brom
15:00
Southampton V Newcastle
15:00
Sunderland V Leicester
15:00
Swansea V Chelsea
15:00
Tottenham V Man Utd
15:00
Watford V Everton
15:00
West Ham V Arsenal
15:00
Saturday 16th April 2016
Barclays Premier League
Arsenal V Crystal Palace
15:00
Bournemouth V Liverpool
15:00
Chelsea V Man City
15:00
Everton V Southampton
15:00
Leicester V West Ham
15:00
Man Utd V Aston Villa
15:00
Newcastle V Swansea
15:00
Norwich V Sunderland
15:00
Stoke V Tottenham
15:00
West Brom V Watford
15:00
Saturday 23rd April 2016
Barclays Premier League
Aston Villa V Southampton
15:00
Bournemouth V Chelsea
15:00
Crystal Palace V Everton
15:00
Leicester V Swansea
15:00
Liverpool V Newcastle
15:00
Man City V Stoke
15:00
Norwich V Watford
15:00
Sunderland V Arsenal
15:00
Tottenham V West Brom
15:00
West Ham V Man Utd
15:00
Saturday 30th April 2016
Barclays Premier League
Arsenal V Norwich
15:00
Chelsea V Tottenham
15:00
Everton V Bournemouth
15:00
Man Utd V Leicester
15:00
Newcastle V Crystal Palace
15:00
Southampton V Man City
15:00
Stoke V Sunderland
15:00
Swansea V Liverpool
15:00
Watford V Aston Villa
15:00
West Brom V West Ham
15:00
Saturday 7th May 2016
Barclays Premier League
Aston Villa V Newcastle
15:00
Bournemouth V West Brom
15:00
Crystal Palace V Stoke
15:00
Leicester V Everton
15:00
Liverpool V Watford
15:00
Man City V Arsenal
15:00
Norwich V Man Utd
15:00
Sunderland V Chelsea
15:00
Tottenham V Southampton
15:00
West Ham V Swansea
15:00
Sunday 15th May 2016
Barclays Premier League
Arsenal V Aston Villa
15:00
Chelsea V Leicester
15:00
Everton V Norwich
15:00
Man Utd V Bournemouth
15:00
Newcastle V Tottenham
15:00
Southampton V Crystal Palace
15:00
Stoke V West Ham
15:00
Swansea V Man City
15:00
Watford V Sunderland
15:00
West Brom V Liverpool
15:00