Space Wars Slot
Space Wars Slot
………………..The Space Wars slot is the latest slot from NetEntertainment and is the best so far in 2013!
The Space Wars slot game looks to have an impressive theme, which is as you would expect set deep in space. Your mission is to gain control of five space creatures, which fight to win control of powerful crystal tube that is positioned to the right hand side of the traditional slot wheels.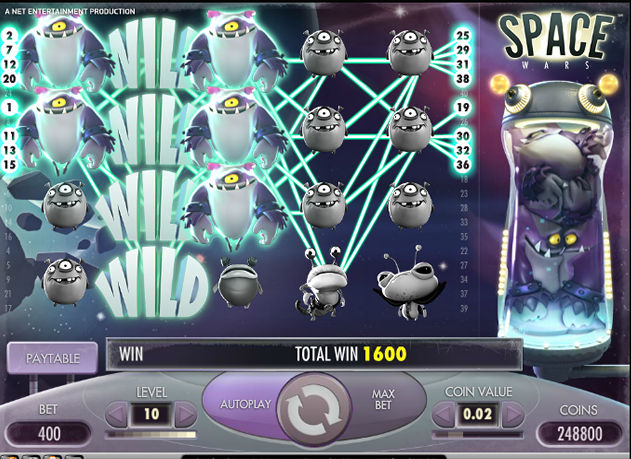 The Space Wars slot has 5 reels, 4 rows and 40 bet lines, which interestingly send a buzz of electrical current through the bet lines when the mouse is cursed over them, making the slot feel even more life like.
The slot has traditional Wild substitutions and a free re-spin where the winning symbol is cloned and stacked on the reels giving the potential for even bigger wins. There is also an element where you win Mega Wins, whereby you see the wheels disappear and be replaced with a space life explosion.  Depending on the features aligned at this stage you can really win big on Space Wars, and can take home a Big Win, Mega Win or even a Super Mega Win.